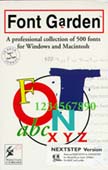 Font Garden for NEXTSTEP and OPENSTEP CDROM
---
A collection of 500 fonts for NEXTSTEP and OPENSTEP
The CDROM includes a 257 page book illustrating each font. The fonts can be linked to your hard disk. Making 500 fonts available in your fonts panel without taking any disk space.

You also get a some font manipulation shareware and conversion utilities.

Copy the font to your hard disk, if you wish. You'll see each font on the CDROM printed in the book, so you'll know exactly how the fonts will look in your document.


Includes a 257 page book illustrating each font.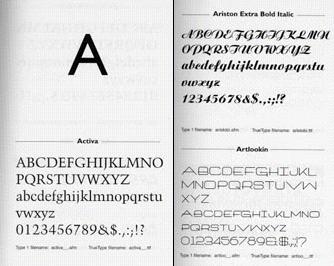 Specs

Date produced: February 1996

Target platform: NEXTSTEP for Motorola, Intel, PA-RISC and SPARC

Format: ISO 9660 with Rock Ridge Extensions (unix)


Features

500 fonts total on the CDROM

81 fonts have accented characters to use for the French and

other languages that use accents.

Includes a 257 page book, to preview the fonts easily.

NEXTSTEP READY

WEB READY, export the CDROM to the Internet.

Full HTML indexes.

Linkable to your local library, save disk space.

Includes font conversion utilities.

A must have in your NEXTSTEP CDROM collection!