They are the ultimate tests for any computer platform: Animation, graphic design, multimedia. Combining the power of Black Hole's 100% compatible and N.I.C.E. certified hardware solutions with the graphics strengths of OpenStep is the smart choice for any digital artist.
---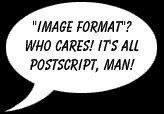 POWERFUL
Not only is OpenStep "the most respected OS on the planet" [Byte Magazine], but it also offers specific built-in advantages to the digital artist:
Display PostScript - By using PostScript from the display all the way down to the output, OpenStep goes further than WYSIWYG (What You See Is What You Get). You could say that it's the first WYSIT (What You See Is It) Operating System.

It is this use of PostScript as a display interpreter that allowed the NeXT Laser Printer to have no RAM, as all the rendering was handled by the computer's OS.
RenderMan - Who's the man behind Pixar? That's right, it's Steve Jobs, also founder of Apple Computer and NeXT Computer, and father of the Macintosh.

So RenderMan is on OpenStep, and tightly optimized for it. And Pixar's RenderMan technology is behind the first feature-length CG movie, Toy Story.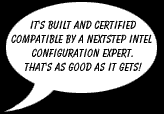 CUSTOM BUILT
Black Hole , Incorporated understands that the workstation you need for doing Animation using Animo in Openstep is specialized. We excel at engineering custom 100% Openstep/ NT compatible solutions . Here are the new Openstep , N.I.C.E. compatible base configurations:
Intel Pentium 11 Processor 350 Mhz , 400Mhz, 450Mhz
Intel Seattle Dimm Motherboard, ATX LX.
128MB of DIMM SDRAM SPD, expandable to 1GB
Adaptec 2940 UW SCSI Controller
32X CDROM, EIDE or SCSI, Sony , Toshiba,or Teac
9 GB Hard Drives, Quantum , Seagate , IBM,
1.44MB Floppy Drive
Enlight ATX Mid Tower or Desktop Case with 250Watt Power Supply
Matrox Millenium with 8MB WRAM or ATI Mach Rage Pro
Viewsonic or Sony Monitor (17 or 21 inch) Optional
Sound Blaster 64Awe Sound Card
Altec Lansing Speakers
CX Digital PCI 10/100MBT Ethernet Card.
Microsoft Defender Mouse
Fujitsu 8725 Keyboard Win 95 PS/2
OpenStep 4.2,
Windows 98 NT Workstation or Server with Blackstep option.
3-year warranty
---
COMPATIBLE
5 Years Experience providing Openstep / Windows compatible workstations . 100% Openstep, Linux and Windows 98 , NT compatible.
Software:
NeXTSTEP 3.3 or OpenStep 4.2
Runs Cambridge Animations Animo
Check out our Third=Party Software Catalog
Microsoft Windows NT and Openstep for NT also available.
---
TRUSTWORTHY
We pride ourselves on producing quality Openstepified workstations . A machine from Black Hole also carries a great reputation. We will do our best to ensure that you are completely satisfied with your purchase. Our systems have 3-year warranty and On site warranties are available throughout the US.
---
COMPATIBLE
We've been building custom, NeXTStep and OpenSTep compatible solutions for 5 years. All our boxes are 100% N.I.C.E. compatible. You just can't beat it!
So send us email or give us a phone call today!

3 0 3 . 7 4 1 . 9 9 9 8