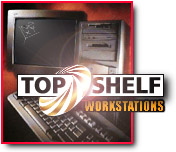 Boxer Workstations:
CPU:
Intel Pentium II & III
, 400Mhz , 450MHz, 50MHz and 550MHz.
Motherboard:
Intel Seattle Motherboard 100Mhz 44 0 with BX
Adaptec 2940 UltraWide SCSI controller.
Memory:
128MB SD DIMM PC 100 expandable to 1GB
Storage:
4GB SCSI Hard Drive (Quantum Atlas or Seagate Barracuda)
+-44X EIDE or SCSI CD-ROM Drive (Toshiba , Teac or Sony)
Teac 1.44 floppy drive
Video:
ATI Rage Pro AGP video card 8Mb VRAM (1152 x 864 at 75Hz, 32 bit color) (1600 x 1200 at 60Hz, 16 bit color)
Viewsonic 17", 21" or Sony 20" high-resolution monitor
Dual Monitors option available.
OR Matrox Millenium PCI Video Card
Options:
Iomega Jaz 2GB removable-media Drive.
full tower cases (up to 5 internal drives)
9GB Hard Drives
CX PCI 10/100MB Combo Ethernet Card
56K Fax/ Modem External
The OpenStep compatible Sound Blaster 64 AWE Gold
Altec Lansing Speakers

Connectivity:
4 PCI local bus
3 ISA slots
PCI I/O Controller with 2 serial (UART 16550)
1 Centronics parallel port
Case:
EnLight ATX form factor Mid Tower or Desktop Case w/ 250W power supply
I/O
Logitech PS/2 Mouseman III
Fujitsu104 Enhanced or Microsoft Ergonomic keyboard

Operating System
OpenStep 4.2, user installed
OpenStep 4.2 Developer
OpenStep 4.2 for Windows NT
Web Objects 4.0 NT
Linux Redhat 6.0

Windows 95, 98, NT 4.0 and optional Blackstep partitions available upon request.
100% OpenStep(N.I.C.E.) , Linux and NT compatible. Optional configurations available.
The Top Shelf "Endeavor"
Our specialization in custom building 100% OpenStep Intel compatible workstations dates back to 1993, when NeXT discontinued the production of their proprietary hardware, and ported the true gem, the NeXTStep operating system, to Intel x86 Architecture.
The Top Shelf Workstations are OpenStep-ready PII & PIII, 400MHz, 450MHz, 500Mhz and 550Mhz systems. Our name "Endeavor" reflects how are customers use our technology to push science forward and Endeavor to succeed. OpenStep is a better operating system when compared to Windows and Linux in most respects for ease of use.
We at Black Hole are proud, positive and confident about stepping up to the plate and continuing to support OpenStep and Linux first and foremost, Microsoft OS third and as an optional OS. In fact for dual or triboot systems , we offer an alternative free NeXT like shell that runs over the top of Windows , we dub it Blackstep.
The DELLs, Gateways, IBMs, and Compaqs of this world don't offer OpenStep nor Linux and probably don't plan on offering them for Intel any time soon.
So we thought we would step right in and do it, to offer an alternative to the Microsoft way of thinking .
Our Top Shelf systems are custom-built with quality components, always directly supported by NeXT/Apple drivers. We offer OpenStep, Linux and WinNT or 2000, as well as an extensive catalog of 3rd Party software.
Our Endeavors provide the power you need to run software applications optimally, the Intel PII and PIII processors crunch numbers with ease, and 128 Mb of SDRAM keeps our systems running fast.
The combination of Adaptec SCSI Controllers with Teac or Toshiba or Yamaha CD, DVD or CDR ROM drives and Seagate or Quantum hard drives delivers quality workstation performance. Add a 2GB Jaz Drive as an option for backup and archiving your data.
We complement this powerful package with the high end graphics and smooth video performance of the ATI Rage Pro Expert Video card.
We are positive that our quality combination of components will make your OpenStep experience, ergonomically comfortable, precise, fun and fast, whether it be application development, networking or just navigating cyberspace on the web's native OS.
So send us email or give us a phone call today!

3 0 3 . 7 4 1 . 9 9 9 8